Games like World of Warcraft are timeless. We can see that over the years possible new players start to ask questions like, can I start WoW in 2020? to Is it too late to start World of Warcraft. That is normal since World of Warcraft is one of the biggest games ever created and over time things got a little bit more complicated. Even though Blizzard tried to fight this issue they were not very successful. Let us be honest the game is turning 16 years old. After all this time most of the player base consists of players with experience. Veterans of the game can affect decisions after all. But after a big fail with Battle for Azeroth expansion, Blizzard decided to change things in the game drastically we checked these changes before, but today we are going to dig deeper into the new player experience coming with World of Warcraft Shadowlands.
If you are a new player in the World of  Warcraft, fear not. The experience will be smoother than before. The new players will be able to spawn in a new zone called the Exile's Reach. This zone will be specifically for new players. Here you will be able to hone your skills, learn your abilities, and interact with other players. We can call Exile's Reach the tutorial of World of Warcraft. Since the zone will be for new players if you are a veteran you will have the option to skip this part of the game. However, for new players, this will be a crucial learning opportunity.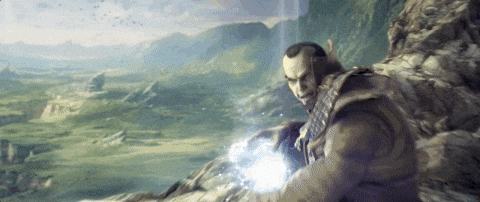 Exile's Reach is located in the North Sea in the game. You will be an expedition force in the island as previous attempts to find the island failed. New players will try to save the previous expedition crew from a horrible death. They will be executed by an ogre necromancer in order to raise an undead dragon. The island has Vyrkul settlements and Night Elven ruins, so at least Elves knew the location. However, if you have chosen a Demon Hunter or a Death Knight you will not be going to Exile's Reach. These players will start in their own zones since they have their own intros.
More: World of Warcraft Shadowlands Covenants Explained
Another interesting feature coming with the Shadowlands will be the Mentor system. This new feature will be an amazing one. Veteran players of the game will be able to help newcomers. Blizzard is trying to create the broken community in the game, and we believe this is an excellent idea. Mentors will have a specific sigh over them and new players can ask questions about the game to these characters. In order to become a mentor, you will need to be a level 60 character meaning completed the Shadowlands story and you will need to complete the Battle for Azeroth content as well.
These are great additions to the game and finally, Blizzard is trying to solve the issue of scaring new players from starting the game. We are expecting World of Warcraft to come during the holiday season, but there might be some delays because of the current pandemic. However, as we can see in PTR most things are ok, even though there are some issues here and there. World of Warcraft is a game that all MMORPG fans should try and you can try it for free between levels 1-20 from here.